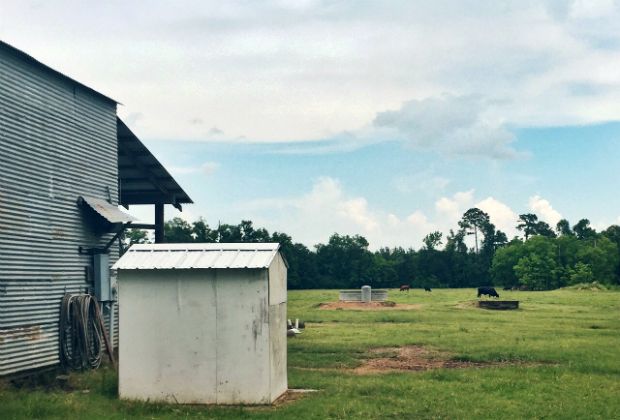 I never intended to live in the country. Growing up in the suburbs, I always felt displaced and assumed that I needed those bright lights, late nights and the constant entertainment that only the largest of cities could provide. Then, I went to college in a small town, home to a prison and a university and not much else. The late night activities I had imagined for myself transpired instead over cheap beer on a friend's back porch, huddled around a fire pit after finals or driving down random dirt roads, our laughter ringing through trees rather than bouncing off buildings. So, I graduated, I lived in big cities (some of the biggest in the world), and then, somehow, ended up back on a dirt road.
Almost immediately my stress melted away. Yes, it's hotter in Texas, so there's a possibility I could actually be melting, but I believe it's attributable to the simplistic, authentic environment present here. Mostly, I didn't realize how much I furrowed my brow and clenched my teeth, how I walked with my muscles constantly engaged to ward off any unneccesary attention (the kind women inevitably get on the streets of a big city). I've lost my anonymity entirely. I also didn't anticipate how difficult it would be to procure things I (and most people in the 21st century) took for granted: Internet. We now have satellite Internet, with a data cap. We can't get DSL or cable, and were legitimately offered dial-up as an option — I laugh-cried in response. So, my desire to stop Netflix-binging and to cut myself off from always being "on" has been (unintentionally) realized. I've cut my own hair and made fried green tomatoes and catfish, fresh-caught by one of Jared's family members. I've bought "mud boots" for mucking about in the yard and I'm very close to convincing Jared to build me a deck and a chicken coop. I've reconnected with friends and family and bought snowcones from the stand that's only open in the summer and picked tomatoes, then turned them into salsa, and drank homemade beer. Although we've agreed not to pretend we're definitely staying put forever, it's an admittedly good life, this accidental country one I'm living.
Sooner or later I will get back to positing outfits (surprise, I still wear clothes), and maybe some pictures of our (really, awesomely) epic road trip adventure, oh, and that whole wedding thing that happened (spoiler: it was amazing) and maybe something about (finally) finishing graduate school, but this has already been a BIG summer, and I need a moment to process all of it myself.