Remember the familiar feeling of doing something you aren't supposed to be doing? Your first underage sip of beer, that quick puff from your older friend's cigarette, hooking up in the back of a car. There's an undeniable thrill in being naughty, and in the potentiality of getting caught. For the longest time I hypothesized that drinking was decidedly less fun now that I could do it legally. After my 21st birthday, I was resigned to the fact that I would never get that specific rush again.
I was wrong.
Before coming to Korea, I had grand aspirations of obtaining a tattoo that would accurately reflect my decision to leave home and live an expat life in the exotic Orient. Then, I found out that tattoos are borderline illegal in Korea; I am not sure about the exact laws but I believe a medical license is required because it counts as a surgical procedure. At any rate, sketchy tattoo parlors are still abound — especially near the military base — but I wasn't prepared to take the plunge into Hepatitis filled waters just yet.
Last week I heard about Ink Bomb – an international tattoo convention to take place in Seoul. After browsing the website, a couple of artists stood out to me, but I wanted a chance to get tattooed, specifically, by Chris Barnett from Good Faith Tattoo. I (impulsively, I suppose) booked an appointment, discussed what I wanted, and proceeded to buzz with anticipation for a week leading up to the convention. Jared decided to make an appointment with a Japanese artist named Matsuo from Three Tide Tattoos as well (sidenote: we love getting tattooed together).
I asked Chris to draw up a matryoshka design with an oriental fan in the center (to symbolize my time overseas). My grandparents used to have these Russian nesting dolls, and I would play with when I was little — I remember they smelled like musty wood and lacquer. I have fond memories, and I like the general aesthetic value of colorful matryoshkas, so it seemed appropriate.
Saturday, we showed up to Ink Bomb around 1PM, met with our artists, had a vodka tonic at the bar, and checked out the gallery. It was hosted at Platoon, which is comprised of 26 storage containers — a really hip space. There were several people already getting tattooed, custom motorcycles, and a body painter on the center stage, plus a bar. Jared sat for his work first, a traditional rose on his chest — it added to a much larger piece he already has. Apparently Japanese artists aren't quite as gentle, Jared got dry shaved and dry wiped (which is pretty funny considering how hairy he is).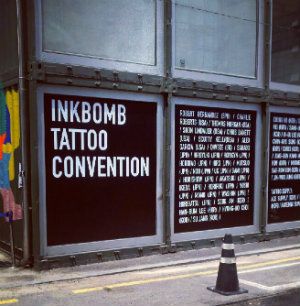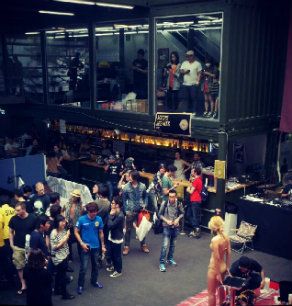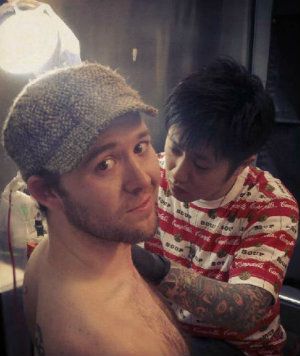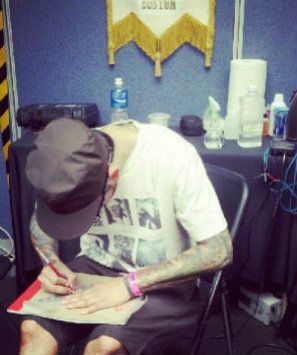 Halfway through Jared's tattoo, the Korean police showed up  (apparently there was no other crime to attend to in Korea). Everyone dropped their needles and began covering up the equipment with the goal (I think) to show that the artists on site were only sketching tattoos and taking pictures — not actually participating in the voluntary defacement of human bodies. When the dust had settled, I found Jared outside padded with paper towels over a half-finished tattoo and his hoodie zipped up to the neck to hide the artwork. We waited a while, spoke with some other half-tattooed individuals, had another drink. The police finally cleared out and Jared got his tattoo finished. All seemed to be well.
I got mine started at about the same time. The outline didn't bother me, well — the tiny needle he used to do the detailing on the face was a new experience, but otherwise it was bearable pain. "I wonder if they are smart enough to just come back and check again," Chris joked.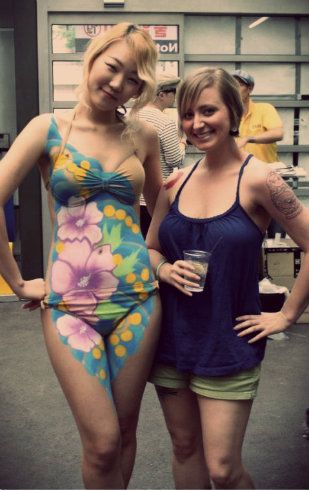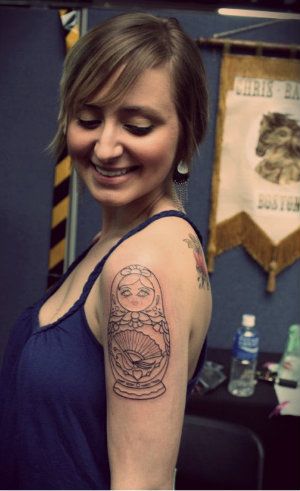 Just as he started the shading, that is precisely what happened. The cops reappeared and began striding through all the stations, pointing, shouting in Korean — there was much hand waving. They were swiping business cards and generally bullying the tattooers.
Jared and I hung around awkwardly, attempting to figure out what was happening. It was difficult to discern as most of the discussion was in Korean or Japanese. Chris approached me and said, "I am going to have to finish your tattoo at my hotel." And that's what we did. We followed him back to the Young Dong Hotel (yes, that's what it was called), where all the tattooers from the convention were staying.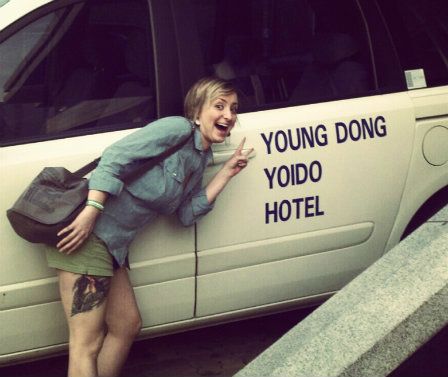 I grabbed some Starbucks to get a bit of a sugar buzz, then we headed up to Chris' room. As we approached the appropriate door, we listened to the hallway buzzing animatedly with the sound of displaced artists practicing their craft.  I situated myself in a hotel desk chair with the sun setting in the window, and we got back to work. The shading, after such a long break, was pretty painful — luckily Chris offered me two Aleve, and it definitely took the edge off.
I think we finally finished sometime near eleven — about ten hours after beginning our journey!
It was, in a word: awesome, or unforgettable. Let's go with: unforgettably awesome. I will definitely remember that tattoo experience. And my matryoshka is definitely worth it! She is lovely — and my first truly "visible" tattoo, being on my bicep. So, here's to experiencing the world a bit differently, meeting new people, and letting life surprise me.