Last weekend we went on a trip to Gosu Cave & Chung-ho Lake with a hiking group primarily made up of fellow ex-pats from all over the world.
The weather was deplorable. Somehow the beautiful SoKo spring had taken several steps backward and the day was cold, complete with pelting rain and dollar store panchos. We opted for taking a ferry ride around the lake (which offered warmth and protection from the rain, rather than hauling our asses up a slippery hillside) and got to watch Koreans sing and dance to some (painfully sober) karaoke with beautiful mountains as our backdrop. The scenery was actually breathtaking, and I think the misty rain only contributed an ethereal quality to the mountains. I kept thinking we were going to find ourselves accidentally in Jurassic Park. Gosu Cave was equally as amazing (I touched a stalactite). It was the third cave I have ever been in, and the safety regulations in other countries continue to astound me. We squeezed and crawled through tiny caverns, operating under the assumption we'd be safe, and even though I slipped several times — I definitely felt like we had been on an adventure!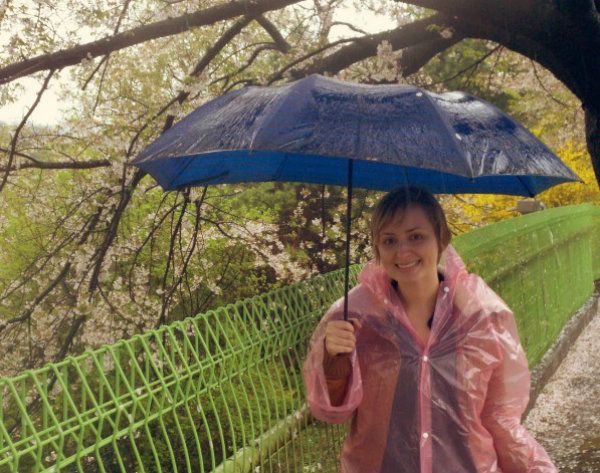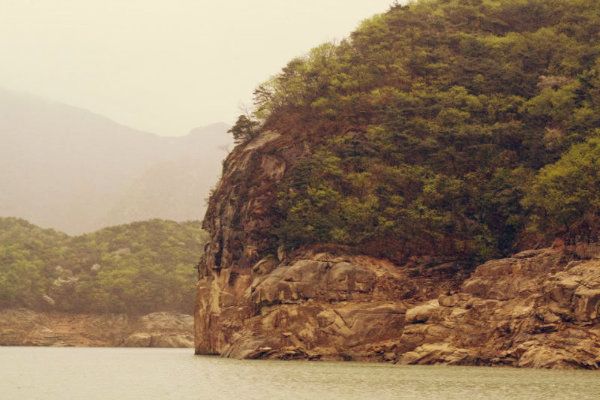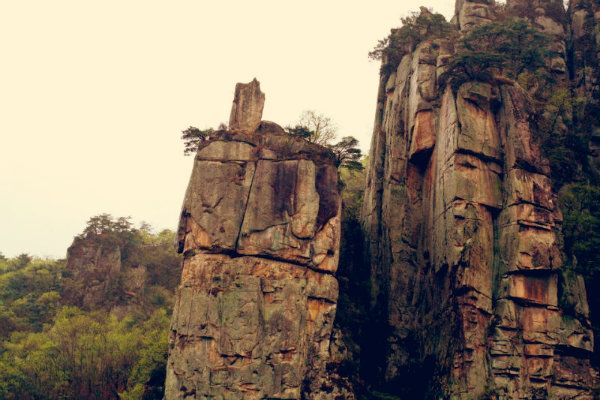 I suppose what has been bothering me a bit lately is the necessity of attaching ourselves to groups in order to participate in activities. Jared and I aren't the most gregarious people in social situations that haven't been lubricated by several alcoholic beverages first — then we are really friendly! But mostly we find people our age to be generally narcissistic and intolerable. Our shared dislike of people has caused me to wonder what exactly we like so much about each other on several different occasions — (then I remember, oh yeah, we're awesome.)
Anyway, upon boarding our bus I heard several girls commenting on what other people were wearing. "Did you see what she had on? She looked like she was going to teach, not hike." And a comment directed toward me (and my very uninformed decision to wear shorts): "She's going to be cold." In line with my ongoing disinterest in confrontation, I let it go and settled back in my seat with Jared for our hour long ride to the hike.
The shitty weather, coupled with the assumption that it's always "5 o'clock somewhere," caused several of our fellow ex-pats to begin drinking heavily after the ferry ride, continuing to drink heavily as we approached the local festival, and ending the day with (you guessed it) drinking heavily on the bus.
First of all, and maybe it's because I am not drinking for the first time, like, ever, but I find all the public intoxication that foreigners partake in here to be more suited to Vegas than a public bus. A group (gaggle?) of girls woke up the hike leader to tell him to stop the bus because they couldn't wait 15 more minutes to pee at the bus station (due to large intake of beer). I wonder why Koreans think foreigners are inconsiderate? Hmm.
Second, I think a lot of ex-pats are attempting to live out some ill-formed collegiate fantasy — or perhaps prolong the one they just finished. Most of them, by their own admission, were awkward or didn't party in college, and then they escaped to Korea where partying and hooking up has become their life. (You learn a lot about people when they loudly share information about how much/how little pot they've smoked or whether their last hookup was circumcised in front of you on a bus.)
Third, I get it — I'm an American. Also, I am a part of the loathed concept of a "couple." Introducing myself to ex-pats here basically means I already have two strikes against me. On the way home a girl (Irish nationality, in case you were wondering) was sitting next to us talking about the other teachers at her school who were a "typical American couple" with a "9 o'clock bedtime" and "no desire to go out."
I could argue that Jared and I are anything but wet blankets. I mean, we are in Korea after all, and crawling through a muddy cave on our day off for a bit of excitement. I leaned over to Jared and whispered, "Are we like, too old or something?" "No, we just aren't dumb-asses," was his response. Which made me laugh.
Now, I am not saying ALL ex-pats in Korea are like this. To the contrary, I've met some who are quite nice, including the other girl we work with. And I love all the friendly Koreans I've met. Unfortunately, I am required to utilize my already rigorous personal evaluation methods with an extra layer of ruthless selectivity in order to avoid the bitter, ignorant, or (most often) annoying people we have encountered on some of our adventures.
The moral of this story: it's nice to have a travel buddy. And it's okay to not like everyone.