I wrote my first short story in Kindergarten. Since I didn't know many actual words, I primarily wrote it with the wooden stamps and red ink stamp pads that were provided by my Catholic School art class. And then, I didn't stop writing or reading. I even majored in it in college.
Last month, I published my first book — a novella entitled Menthol Kisses.
This last month has also been a whirlwind of first time experiences. I learned how to actually format and self-publish a novel on both Amazon (mobi) and now on Kobo (for epub & adobe). I learned that it's really hard to market your own writing. I've also learned that I have some awesome friends and blog followers who jumped at the chance to read my book. (yay, thank you!) I've learned a host of other things about editing, cover design, and pricing. Mostly, I've learned that this is what I want to do. Forever.
In an effort to distill my writing about writing I have created the It's An Indie Thing Newsletter.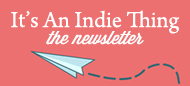 How do you know if this newsletter is right for you?
+ You are interested in the day-to-day life of an indie writer.
+ You want to publish your own indie work and seek motivation.
+ You want updates about my WIPs, new releases, and giveaways.
+ You just want to chat with an author.
Sound interesting? Then opt in to the (free!) newsletter by clicking the button above or the link in my menu bar.
Also, check out the playlist from Menthol Kisses on my author website. I compiled all the music that Logan listened to in the story so you can listen along while you read — cool, right?