Today marks 7 months in South Korea.
Okay, I really feel like I just wrote about our 6 month mark yesterday. But it's been 210 days, and I am still a stranger in a strange land — although the land is getting less and less strange every day.
I swear our tastebuds have completely changed. Weird Korean kolaches that Jared and I ate at Paris Baguette when we first arrived, and mutually affirmed our disgust in, have become our go-to breakfast items. I have no explanation, but I really miss Denny's.
Our work load has increased exponentially this month due to an early exit by the third English teacher — so Jared and I are now managing a workload meant for three. This means larger classes, more classes, and less breaks — we are exhausted. I've actually skipped dinner a few times because we get home at 9:30 and I just can't be bothered to eat. Luckily, we are both getting burned out right in time, because we have Sept 29 – Oct 3 off for Chuseok! We originally planned to take another trip during this break, but after the stressful travel experience we had visiting China, we decided to take it easy in Korea instead.
We've made more Korean friends (no ex-pat friends, still) and let them guide us on many interesting adventures. I suspect we make fast friends with Koreans because the men tend to think Jared either looks like David Beckham or Russel Crowe, and subsequently buy him drinks. Seriously, he gets more free drinks from guys than me anywhere we go. They usually buy me one as well, as an afterthought or something. I don't know how he is going to cope when we go back and people aren't calling him "handsome" on a daily basis. However, since Chuseok is similar to American Thanksgiving , we will probably be on our own for the five day stint.
It's okay though, we like each other.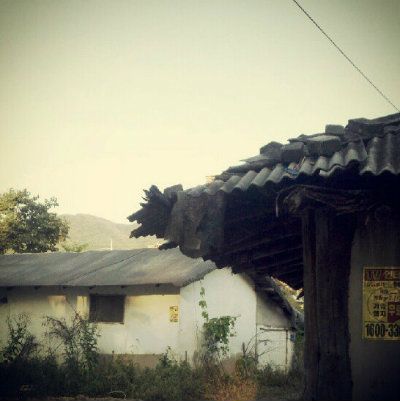 Rooftops & mountains near our apartment.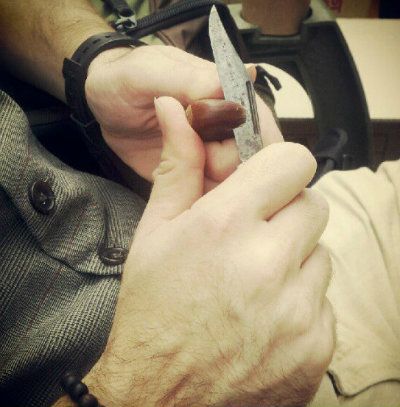 Jared cracking open a chestnut.