Hello, my name is Abby and I am a shopaholic.
I love to shop. Well, I love the ravenous hunt for a good deal. And when I find one I'm all: "15 dollars for THE most perfect sweater? I can't pass this up!" I compulsively comb through sales racks and websites (ahem ModCloth ahem) staring at page after page of clothing I do not need or can not afford. At the end of each perusal I end up either a) purchasing something or b) feeling depressed because I don't have the prettiest dress, the latest fashion trend, those amazing riding boots.
Lately, I've had some odd emotions regarding my current wardrobe:
1. Overwhelmed. I actually counted my things yesterday (mistake). I had around 160 clothing items and 42 pairs of shoes (not including what I had already put in a donation box last month).
2. Guilty. I have SO MUCH excess in my closet where some people have nothing.
3. Ashamed. Things I have purchased in the last couple of months I am now looking at, wondering why? Things I wanted. But I have this sinking feeling that I will never wear them and simply cling desperately because it's my most recent fashion folly and I don't want to look silly.
I keep things "just in case" or because those shoes go with that one outfit (yes I literally kept shoes because they matched one particular outfit). Many of my shirts have been worn exactly once.
I find that a lot of my clothing belongs to my ideal self. My ideal self is a vintage, bohemian, artist type that paints her own jeans and only wears things from fancy frock retailers (ahem ModCloth ahem) and amazing vintage stores in Austin. In reality, I am a laid back chick who can wear anything from flowy, hippie skirts to a skinny jeans with knee high buckle boots. I like skinny jeans, simple dresses with cardigans and oversized T-shirts. I don't like high heels, why do I keep buying them? I have one pair of wedge heels that I love, but beyond that I only ever wear ballet flats, sandals or boots.
Following the dreaded counting (somehow knowing the actual number made it so much worse) I began to purge. I had already completely cleaned out our bathroom on Monday and threw away a whole garbage bag of old makeup, nasty nail polishes and lotions I never used. This was going to be cake.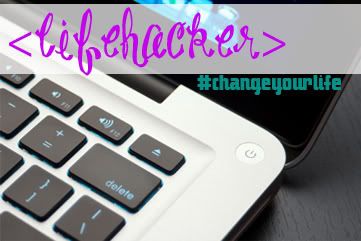 How should one go about tackling a wardrobe?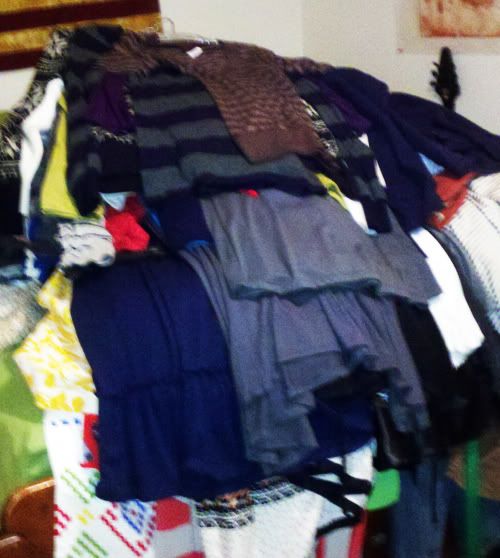 1. Take everything off the hangers and throw it somewhere in a big pile (in my case, the bed).
2. Designate areas on your floor, or any clear space. Label them (I used Sharpies & index cards):
Love: if you wear the piece of clothing often and can't imagine your life without it, it goes here. Most of my items in this pile were neutral colors: navy blue, grey, black. I assume because they go with everything.
Like: these are clothes you like, but don't love, and may reconsider. This pile always ends up being the biggest.
Donate or Sell: clothing you never wear, bought on a whim, or doesn't fit you or your style anymore. Give it to someone who will appreciate it.
3. Try everything on. Unless you wore it yesterday, you don't know how it's going to look. (It doesn't take that long, swearsies) Only keep things which flatter your body and look good on you. You should always feel like a rockstar!
4. Evaluate your piles. If you need to, call in a second opinion for some of the "like" items. Move them to the love pile if they make the cut. (Jared had to watch me do a fashion show).
5. Box the donate items up quickly before you start moving them to the like pile.
6. ONLY hang back up what made it into the love pile.
At the end I only rescued one or two things from the like pile, the rest I quickly bagged up so I couldn't rethink it. I recounted the clothing and now I have closer to 60 things (not including workout wear, pjs and underthings) and I've listed a lot of my shoes on eBay. The rest will probably go in a garage sale or be donated.
I feel that familiar wave of guilt as I list a $100 pair of shoes I bought (for a wedding) for a fraction of that on eBay. Consumerism has me by the proverbial balls. At the end of this, I am hoping to feel more free and less overwhelmed by my things.
I've learned through sites like Miss Minimalist and Project 333, that fashion really is about learning to do more with less. Instead of buying into every "of the minute" trend, I need to find a nice set of clothing that makes me look and feel awesome; then mix it up with accessories, scarves, and cardigans.
Perhaps this whirlwind closet cleanout method isn't for everyone (it took a good three hours of my day), it has made me feel significantly lighter. I only want to take two suitcases of clothing to South Korea (maybe just two suitcases total). At any rate, my journey to a minimalist lifestyle has begun.