As a happiness hacker, I have learned that on the winding road to your happy place all travelers, myself included, must take heed of those who will attempt to destroy the happiness.
Many of these people have simply stopped traveling. They have not found contentment. They are stuck. And, what's worse, they don't know how to get out. Instead of doing something for themselves, they spend valuable energy taking their issues out on you. Most unhappy people, if given a chance, will project their personality deficiencies and problems onto your shoulders.
I am going to title this type of person a "happiness hater." These people aren't happy, and they don't want you to be happy either. They will seek an opening, a proverbial chink in your armor, and fire their arrows, tipped with negativity, directly toward your core.
The worst part is that happiness haters tend to bring to the surface things which should be left unsaid, or unshared. They rejoice in delivering bad news and bringing up issues which should reside where they belong, in the past.
You have to decide how to defend yourself against their attacks.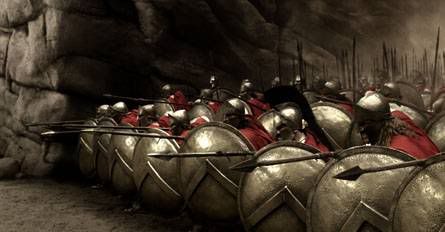 Combat happiness haters by forming a phalanx of positivity. Find people who support you. For example, Jared is an integral part of my phalanx. Instead of sinking into myself, as I tend to do, I talk to him. He is my defense against the world, against the negative. My dog, Sherman, never fails to cheer me up with a hug. They are my front line and two of my five.
Surround yourself with people who are going forward, not looking back.