It's still monsoon season here. Monsoon season is especially wonderful because it couples the unbearably hot temperature with equally as unbearably humidity. Seriously.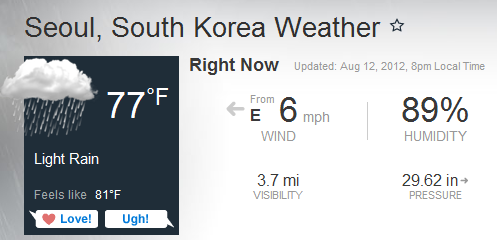 (Okay, admittedly the nighttime weather isn't as sweltering).
The other bummer about monsoon season is that our apartment leaks. We are on the second floor, so I actually have no idea HOW this happens. We've checked the exterior and nothing runs inside, no gaping holes to speak of. The only explanation we have is that it travels from the top, all the way down. The water drips from the outlet that we plug our A/C unit into (yay electrocution!) and I've employed a green bowl to catch the stray drops, the rest is usually caught by our bed, or my face if it happens while we are sleeping. Hey, at least we can hang dry our sheets after they get wet since we don't have dryer! Oh, wait.
But, I mean, you haven't truly lived in South Korea, until you've showered with an exposed wire.
Also, our toilet paper is mint green. Korea produces a lovely assortment of colored toilet paper ranging from neon orange to the more subdued choice we are currently using. We simply aren't progressive enough to make the jump to neon.