This is the yet another  post in a new series on A Geek Tragedy called Celestial Bodies where I interview lifestyle and personal style bloggers about how they maintain a positive body image and dress for their body type. This time I am talking to Angie the voice behind Lariats and Lavender.
Describe your body type for us. For quite a while, I was an hourglass shape, until I started gaining more and more weight in my lower body and am now considered a pear shape. I am 5'4″ and as of my last weigh in, 180lbs. I have been overweight ever since I was a child, and I have never had proper nutrition information, so I am learning everything as a 20-something year old (24, as of right now!). I love my body. I am self conscious about certain parts of myself, definitely. However, as a whole, I do love my body and I love everything that my body can do, and who I am on the inside as well.
What is a positive memory you have about your body image (a particular compliment, or positive realization, etc.)?  The first time Jen called me beautiful, and I knew that she truly thought I was. I was fourteen, when that happened. I wasn't nearly as in love with my body as I am now, so her calling me beautiful moved me so much. She's helped me overcome a LOT of my self esteem issues, both body wise and otherwise. Next, I disliked my childlike face for quite a long time. No matter what I do, people think I am a teenager. However, I have had several people tell me that I look a lot like Bettie Page and when I first looked her up, I realized I DO and I am quite proud of that!
What is something about your body that you really dislike for people to comment on or an opinion about your looks that you wish people would keep to themselves? My teeth, and my chest. I have fake teeth, and they're ill-fitting. I saw a dentist for the first time this year, and he is planning on doing a little work on my mouth and getting me a new set of teeth and I cannot wait. You can tell that my teeth are fake, and I have had people (children, and a few co-workers) comment on them. As for my chest, I was an early bloomer and my garden really grew! The last time I went bra shopping, I picked up a 38D and that was still too small, so I am working on figuring out my current size. I've had men yell "compliments" about my chest while walking or driving by me, and I really hate that.
How do you dress to accentuate your body type? Conversely, what might you try to hide? I should start with my eyes, as I love them. I don't wear make-up often (sensitive skin, boo!), however when I do, I really play up my eyes. They're big, and my actual eyes change color! I also play up my mouth… Now, I know I said I mentioned disliking when people comment on my teeth, so why play up my mouth? I smile, a lot. I don't believe in hiding my smile, just because people may comment on my teeth.
I also love my neck and shoulders, so a pretty v-neck or scoop neck shirt or an off the shoulder shirt is perfect. I have a slim waist, so I accentuate that part of my body with shirts that end right near my waist line, and pants that hang just a titch lower.
As for what I hide, I definitely would prefer hiding my acne. It's not something I enjoy having, however like I said, I don't wear make-up often and I don't see the point of wearing make-up JUST to hide my acne. I much prefer wearing make-up, because it's fun. I also try to hide the fact that one side of my face is a bit "lower" than the other, and is quite noticeable.
I try and find shirts that fit me just right, so I don't have rolls that pull fabric and look unflattering. I hate too tight clothing, and too loose clothing as well. I don't show a lot of skin, because I feel like sexier clothing should be worn around Jen – not everyone in the store. However, that's my personal feeling and I don't think anyone is right, or wrong, for how much or how little they wear. I don't believe in clothing making someone a prude, or the opposite.
What body image advice would you give to a younger version of yourself?  I would tell my younger self, learn more about healthy eating, and exercising. You won't do either because you dislike your body, but because you *love* your body. You'll love yourself, no matter how much you gain or lose, but you want to feel healthier, and have more energy, and it's better to start now.
Also, start a wardrobe, and try clothing on; see what fits right, and what doesn't and wear what you love yourself in, both look wise and comfort wise. This is 100% more important as you get older, younger self, because when you were 15 and 16 you had a much better judge of your body shape and what looked good on you than you do now, as a 24-year-old!
Also, you will get acne. It's okay. You don't care that much, however sometimes you'll feel a little uncomfortable. But seriously, it's okay. Just take care of your skin, so it's healthier. Take care of yourself, so you're healthier. Our bodies change. You'll love yours, no matter what. So take GOOD CARE OF IT.
Also, I should say… For other girls, especially younger girls, don't change for anyone. Boyfriends, girlfriends, friends… if they're real, true potential love interests, and if they're real, true friends, they won't want you to change anyway. They'll love you, for who you are. Inside, and outside. You're *beautiful*. No one else can be you, but you. Your body is a remarkable thing. Think of all you can do, and how much your body does everyday. Think of what a miracle that is. When you're feeling down, and being hard on yourself, put someone you love in your place. Think of what you'd tell them, and how you'd feel if they were being hard on themselves. Everyone is beautiful, no matter their size, shape, what they love about themselves or hate and no matter what anyone says. You're amazing.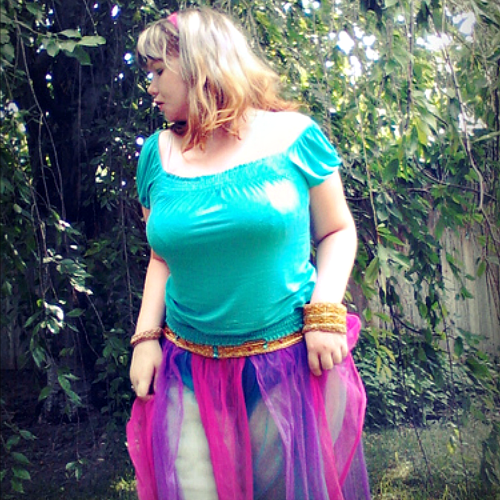 Don't forget to check out Angie's blog Lariats and Lavender. If you're a blogger who would like to be included in this series, please feel free to email me (link in the sidebar).