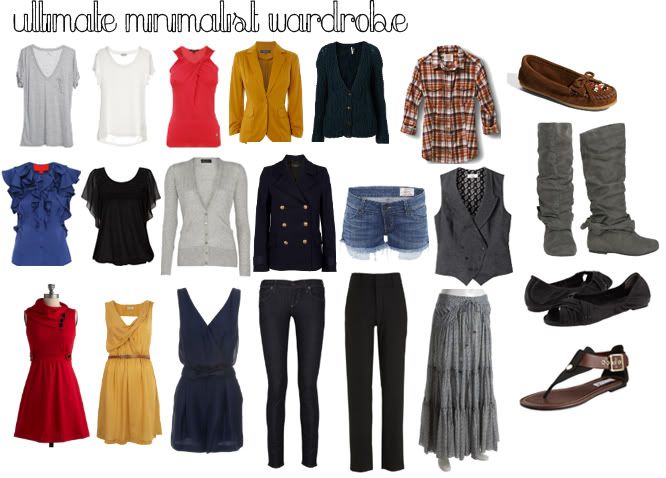 The List of my Ideal 22 Piece Wardrobe

2 comfortable t-shirts
3 appropriate for work shirts
1 flannel shirt
1 blazer
2 cardigans / sweaters
1 peacoat
1 vest
1 pair denim shorts
1 pair denim skinny jeans
1 pair black slacks
1 peasant skirt
3 sundresses for work and play
1 pair Minnetonka mocs
1 pair grey boots
1 pair black ballet flats
1 pair sandals
(does not include workout wear, pajamas or underwear)
Using Polyvore and Photoshop I compiled my ultimate minimalist wardrobe. First, I had to consider work and play. Being a teacher requires me to dress comfortably, and I am on my feet all day. So I never wear heels or overly fancy clothing — no pants suits or pencil skirts. I also get cold easily, meaning blazers and cardigans are pretty much a daily outfit consideration — otherwise I wear my "classroom sweater." (Every teacher has one of those dowdy, knit sweaters hanging over their chairs, ya know… just in case) When I am just hanging out, my preference is skinny jeans, denim shorts or sundresses. Also, keep in mind I live in Texas where it rarely snows, necessitating a lighter wardrobe. Obviously this would vary place to place.
My actual wardrobe, despite overhauling it, is quite a bit more vast than the ideal collection I listed above.
The List of my Actual Wardobe
4 vests
4 cardigans
1 button down
1 flannel shirt
17 dresses (sundresses, work & formal)
3 skirts (2 long, 1 short)
4 tanktops
29 shirts (t-shirts & work)
4 sweaters
3 jackets
1 blazer
1 peacoat
1 sweatshirt
6 pairs of pants
2 pairs of jeans
4 pairs of shorts
2 pairs of sandals
4 pairs of boots
3 pairs of wedge heels
8 pairs of ballet flat-type shoes
1 pair of Vibrams running shoes
(does not include workout wear, pajamas or underwear)
Looking at that list makes me feel like I am still swimming in excess. I definitely couldn't complete the 100 things challenge at this juncture. However, it is progress and my clothing is the majority of what I would consider my "possessions," followed by art supplies and then books. I would like to get my entire wardrobe down to 50 before we leave for Korea, but right now I wear most of what is in my closet — especially the dresses and pants. The shirts are my obvious overindulgence. And I will have to purchase a heavy coat at some point since I do not have one.
I don't know if I could ever do the 22 item wardrobe, but as I mentioned before, I think I would enjoy the challenge of creating more with less.